Dershowitz claims victory in withdrawal of Intelligence Chief.


U.S.-Israeli "special relationship" results in first casualty of the Obama administration.
Image: NBC News

In 1943 Winston Churchill
reportedly
told Joseph Stalin that "truth is so precious that she should always be attended by a bodyguard of lies." Then the truth was being hidden from the Axis powers, now it is the American public that is being protected against. As the recent events over the nominee for Chief of the National Intelligence Council indicate, the truth is that the U.S. is locked into a dangerous alliance with a country that is set to take us along on their self-destructive mission.
While Obama has quietly
promised Israel $10 billion in military aid
his administration has asked their only critic of Israeli foreign policy, Charles ("Chas") Freeman, to withdraw his name from consideration. Freeman's
stated reason
for stepping down as the nominee for head of the NIC was the attacks on him from right-wing members of the "Israel Lobby".
I have concluded that the barrage of libelous distortions of my record would not cease upon my entry into office. The effort to smear me and to destroy my credibility would instead continue. I do not believe the National Intelligence Council could function effectively while its chair was under constant attack by unscrupulous people with a passionate attachment to the views of a political faction in a foreign country.
The obvious hypocrisy was not lost on Freeman.
There is a special irony in having been accused of improper regard for the opinions of foreign governments and societies by a group so clearly intent on enforcing adherence to the policies of a foreign government – in this case, the government of Israel.
Even though National Intelligence Director Dennis Blair expressed determination to support his hand-picked nominee before a Senate hearing, just hours later word from the top apparently overruled this decision. Democratic Senator Chuck Schumer reportedly spoke with Obama's Chief of Staff Rahm Emmanuel soon before Freeman announced his withdrawal, a conversation that apparently clinched the deal. Schumer is a firm supporter of the American-Israel Public Affairs Committee (AIPAC) and has shown a consistent record of bending over backwards to accommodate their wishes.

The assault against Freeman's nomination began in early February with former AIPAC official Steve Rosen. Rosen, who has been indicted for espionage in leaking classified documents to Israel, wrote on his blog that Freeman was "a strident critic of Israel, and a textbook case of the old-line Arabism" with views that were "what you would expect in the Saudi foreign ministry." A few days later Rosen attacked Freeman as someone who "regularly fulminates vitriolic anti-Israel diatribes" and claimed that he had "received funds from Saudi Arabia to engage in systematic Israel-bashing." This is patent nonsense and was easily debunked as mere libel. But that didn't stop the ridiculous claims from being picked up and amplified by Fox News and the Wall Street Journal (both owned by Rupert Murdoch). Now that Freeman has stepped down other supporters are claiming victory and repeating these lies in justification.


Writing today in The Huffington Post Harvard law professor Alan Dershowitz claimed that Freeman was a "zealot" and an "ideologue" whose "extremist views" can only be explained by claiming that he "has been bought and paid for by lobbies that he does not wish to alienate."

He has a long history of playing the tunes selected for him by those who have paid him. He is an ideological zealot when it comes to the Middle East.
Meanwhile, Paul Tiller, former National Intelligence Officer and Executive Assistant to the CIA Director had a remarkably different assessment of Freeman's abilities.

I would trust that Mr. Freeman would exhibit integrity in addressing issues on the Middle East as they may pertain to Israel or any other Middle Eastern country . . . The kind of 'anti-Israeli' perspective getting criticized is of course not new criticism or by no means unique to this particular target.

I think what is being missed [in this commentary] is the whole concept that a public servant ... and foreign affairs professional with a long career under different administrations ... can do his job in the best and most objective way he thinks is possible and isn't necessarily going to be working one policy slant vs. another policy slant.
Tillar is now a professor of Security Studies at Georgetown University and his 2003 book,

Terrorism and U.S. Foreign Policy

, was praised by Philip Zelikow (a high level intelligence officer in both Bush administrations, so clearly no dove where Israel is concerned) which clearly suggests that Freeman is well within the Beltway on intelligence issues. To have Dershowitz and company react as if Bandar bin Sultan had been nominated is beyond absurd, in fact it's downright loony toons.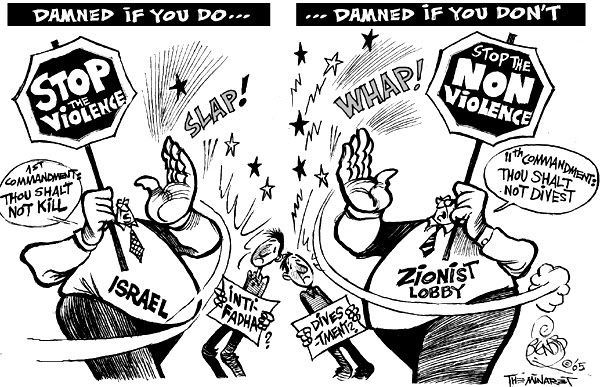 Opposition to Israeli policy in any form results in harsh measures.
Image: K. Bendib



Alan Dershowitz is well known for his zealous attacks on any criticism of Israel. He has accused both Presidential nominee Cynthia McKinney and the Green Party of "anti-semitism", claimed that Harvard's Steve Walt and John Mearsheimer plagiarized from

"anti-Semitic, neo-Nazi and radical Islamic hate sites" in their article

"The Israel Lobby" (published in the

London Review of Books

) and has even accused Jimmy Carter of being "complicit in evil" following his tepid criticism of Israeli policy. Last year Dershowitz spearheaded an effort to have Israeli critic Norman Finkelstein denied tenure at DePaul University, calling him "an evil man" and "an overt anti-Semite with two Jewish parents." Most recently, Dershowitz intervened in the student effort to divest Hampshire College from companies supporting Israel's occupation of the Palestinian Territories. In the press he repeatedly accused the students of "bigotry" (despite their explicit statements and trainings focused on separating Jewish culture from Israeli policy), he personally threatened the members of Students for Justice in Palestine and offered a "contribution" to Hampshire President Ralph Hexter if he reversed the college's divestment agreement.

So, in other words, an ideologue with close political and economic ties to a powerful lobby is accusing someone of being beholden to special interests? A few years ago Dershowitz wrote a book entitled

Chutzpah

. Clearly, he knows what he's talking about. However, in this case, he takes the concept far beyond the pale to the point of abject hypocrisy. What's most unfortunate in this whole affair is that the stalwart pro-Israel hawks have prevented any meaningful change in U.S.-Israeli policy for the occupied territories.

As Israel marches ever onwards towards the abyss it comes upon ordinary citizens (both here and in the Middle East) to reign in the destructive aspects of this so-called "special relationship" and bring a just end to more than thirty years of humiliation, war and exile for the Palestinian people. While the official "truth" may require bodyguards, justice requires nothing more than exposure.

UPDATE I: Alan Dershowitz and Norman Finkelstein responded to this post here.

UPDATE II: For more on Freeman and his withdrawal see

Foreign Policy

's The Cable and

Foreign Policy In Focus

' Commentary.