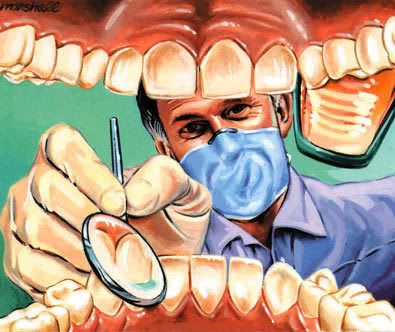 The Discovery Institute was proudly touting an anti-evolution group calling themselves Physicians and Surgeons for Scientific Integrity. According to DI:


they have 264 members from 15 different countries and are planning a number of major events in the next 18 months, including a series of public events in Spain this January, titled "What Darwin Didn't Know."
Funny thing is though, when I looked at the list of members the largest percentage (after family practitioners) are dentists! While I'm sure that dentistry school is rigorous, last I checked they don't do any research in evolutionary biology. They should though, if
this dentist's ignorance
is any indication:
I honestly don't think that wisdom teeth are good examples of evolution. I'm a dentist and deal with them all the time, and my feeling is that it's more a mix of genes that causes wisdom teeth problems. You inherit large teeth from dad and small jaws from mom... now you're getting surgery to have them removed because they don't have room to come in.

The reason I don't get the evolution argument is because there is no selective pressure applied to the teeth in question. In order for this to be true, those without wisdom teeth would have a greater chance of survival than individuals that have them.
Actually, he should probably retake Biology 101 first. Large teeth from dad and small jaws from mom?! Wow. Wisdom teeth are vestigial traits that are lingering remains of our evolutionary history. Scienceline goes into more depth about them
here
.
Just for fun, next time you're strapped into the dentist's chair ask whether or not
Australopithecus afarensis
was plagued with wisdom teeth. Have they even heard of Australopithecines? Also ask them what their view is of Super String Theory. I'm sure they'll be able to give a detailed answer. Afterall, they're scientists.
You've got to give it to the ignorant apes over at DI though. They'll do anything to push their imagined controversy.
To find out about other vestigial traits that show our evolutionary legacy
Mark Wagner has a nice listing here.
We'd better watch out though, some of these dentists can get a little vicious.
Note to my dentist: I think dentists are wonderful and I value your very necessary skills and service. Please don't use the drill.