Baby Ndeze appears to be doing well.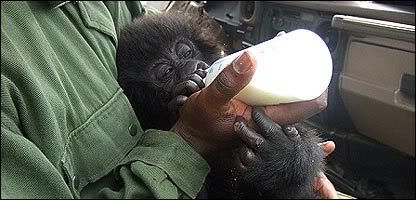 Earlier I reported on the four gorillas (one of whom was pregnant) that were massacred in the Democratic Republic of Congo. It appears that a baby who wasn't expected to live without her mother is in stable condition.

Ndeze was left in desperate need of water and food after the attack in July, and experts are still trying to work out why the gorillas were killed.

Emergency measures have now been brought in to protect the rest of the gorillas in the Virunga National Park.

Extra patrols have been set up in the part of the park where the other gorillas live to keep them safe.

The bodies of one silverback and three female gorillas were discovered on 22 July in Virunga National Park.

It's a mystery why the gorillas - all from one family - were killed.

The four animals belonged to a group of 12 gorillas, known to researchers as the Rugendo family, which are often visited by tourists.

There are only around 700 mountain gorillas alive in the world, and more than half of them live in the national park in the Democratic Republic of Congo.

Story here.