UNC Professor says God designed apes so humans could cage them.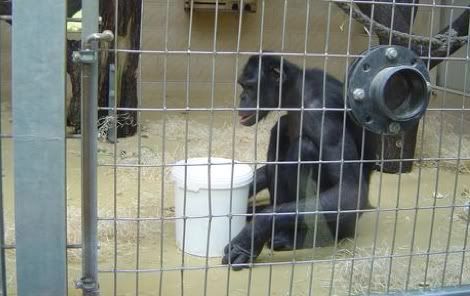 And God said it was good?

(Many thanks to Pharyngula for the link. For more on the exciting world of creationist logic see my posts Parsimony and the Origin of Life in the Universe and The Feeling of What Happens. This story was picked up by the Chronicle of Higher Education, join the discussion on their blog.)

As a recent émigré to the South from the heathenistic West Coast I'm often reminded of some of the cultural differences between my fellow countrymen. A case in point is this gem from David A. Plaisted, professor of computer science at the University of North Carolina at Chapel Hill (just a stone's throw from where I live in Durham). After quote-mining select news items and science journals to claim that anthropologists are confused by the fossil evidence connecting humans and other apes (we aren't) he offers this suggestion of God's motives:


But why would God create a creature that is so close to a human, but not quite? To answer this, we have to reason from what we know or can infer about God's motives in the creation. This may lead us to considerations that seem far removed from those that are expected in this context. The original creation was intended to contribute to the happiness of man and animal. We can assume that in many cases the Lord created animals that would be a delight to man, and created man to be a blessing to the animals. Even today, both children and adults enjoy seeing gorillas and chimpanzees in zoos. It is reasonable to assume that these creatures were partly made for just this reason, to be a joy and entertainment to us.
So, in His infinite wisdom the purported Creator of the Universe specifically chose to make great apes because He knew, one day (six thousand years hence), little Jimmy could point at one with amusement.
And He said it was good.
This is what passes for a "reasonable" explanation in creationist circles (and from a university professor at that)? No wonder people are
turning from religion
in droves.
A further tour through his
university hosted website
demonstrates that he uses the UNC web server to advocate teaching creationism in public schools. I wonder what the university policy is concerning religious evangelism using public resources?
Many thanks to Vanessa for
bringing this loony to our attention
.