Study suggests women display sexual cues during estrus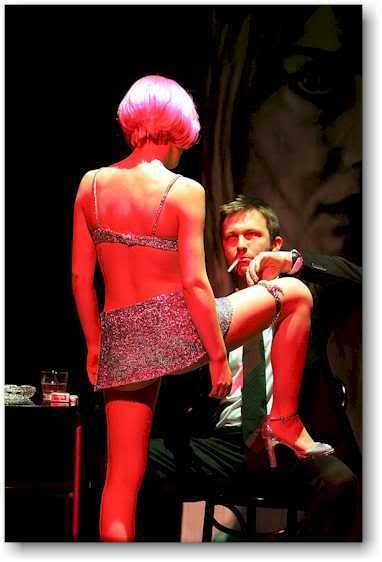 Lap dancers earn larger tips when men sense fertility
In my earlier post,
Eye of the Beholder
, I pointed to new research showing that women are most attracted to individuals other than their partners while in estrus, the most fertile period of a woman's menstrual cycle. Their eyes betrayed their attraction to others even under controlled settings. Now it seems that estrus causes men's eyes to widen as well.
Publishing in the journal
Evolution and Human Behavior
(pdf), evolutionary psychologists Geoffrey Miller, Joshua Tybur and Brent Jordan collected data on the tips received by lap dancers who were currently taking birth control and those who were naturally cycling. Those dancers who were at their most fertile period received significantly more tips than both dancers on birth control and those at other points in their cycle.
As the authors wrote in their study:

When women and men interact intimately over the course of several minutes through conversation and body contact, women apparently either "signal" or "leak" cues of their fertility status, and these cues influence spending patterns by male consumers. These results argue against the view that human estrus evolved to be lost or hidden from males.
However the study has several limitations, as the authors readily admit. The sample size included only 18 individuals which could result in "false positives," or finding significant differences where there wouldn't be in results from a larger population. Secondly, the tip earnings and cycle phase were self-reported by the dancers themselves. Knowing which phase of the cycle you're in can be difficult to determine (or so I've been told) and any mistaken estimates are further compounded when the sample size is so small.
Nonetheless, it would be remarkable if women didn't show some indications of their reproductive status during their peak of fertility. All female mammals display distinct behavioral and physiological cues during their fertile period that increase their reproductive success as a result. For example many primates, including our closely related chimpanzee and bonobo cousins, will develop large estrus swellings during their fertile period and will be more likely to approach the males they find desirable. Rhesus macaque females will vigorously court males during estrus, even using physical aggression if males reject their advances. Also, lionesses will actively seek out up to 100 matings per day with multiple individuals during their one-week of peak fertility (something that was edited out of
The Lion King
).
Bonobo sexual swellings coincide with greater sexual interest in males and females

Image: Vanessa Woods
This study doesn't suggest that the dancers were more attracted to their customers while in estrus (or attracted to them at all), merely that males could detect something irresistibly alluring, more so than during other times, and responded with their wallets.
Our society typically views women's sexuality as either shameful or reserved for men's enjoyment (as I'm sure the women in this study know all too well). However, in an ironic twist, this tentative evidence of estrus signaling among lap dancers emphasizes the personal empowerment inherent in the evolution of female sexuality. For thousands of generations those women who displayed a healthy sexual desire during their most fertile period were ultimately more successful in the evolutionary dance. This legacy remains visible today, even in women who want nothing more from the males in their vicinity than a decent tip.
Reference:
Geoffrey Miller, Joshua M. Tybur, Brent D. Jordan (2007). Ovulatory cycle effects on tip earnings by lap dancers: economic evidence for human estrus?
Evolution and Human Behavior
. doi:10.1016/j.evolhumbehav.2007.06.002