Existence of God questioned before India's Supreme Court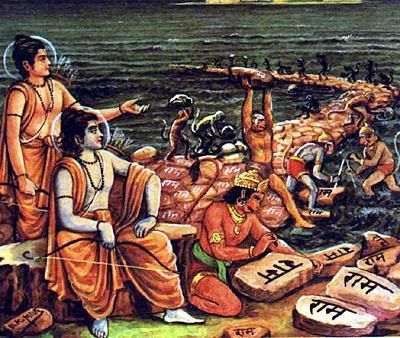 Lord Ram with his vaanar sena building a bridge to Sri Lanka

The Indian government withdrew a report submitted before the Supreme Court that challenged the existence of the Hindu God Ram. The report was in connection with a proposed shipping canal between India and Sri Lanka.

According to the story linked at RichardDawkins.net:


Hindu hardliners say the project will destroy what they say is a bridge built by Ram and his army of monkeys.

Scientists and archaeologists say the Ram Setu (Lord Ram's bridge) - or Adam's Bridge as it is sometimes called - is a natural formation of sand and stones. . . They said there was no scientific evidence to prove that the events described in Ramayana ever took place or that the characters depicted in the epic were real.
As a result the Bharatiya Janata Party (conservative Hindu nationalists that led the government until 2004 - basically the equivalent of modern Republicans) condemned the report for questioning the "faith of the million." Large-scale protests by Hindu hard-line organizations (which blocked roads and allegedly set a bus on fire) ultimately caused the government to withdraw the report.
While I may have a personal stake in building a primate army I think I'll have to go with the archaeologists on this one.