Intellectual Blogger Award recipients dazzle and inform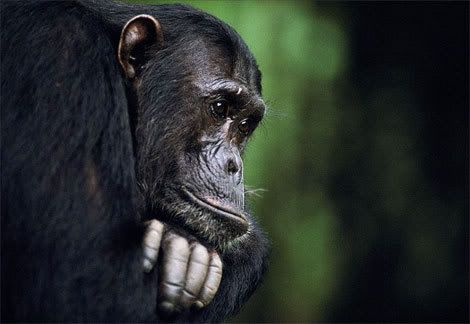 Thinking long and hard about the final decisions was not easy.

Image: Michael Nichols/National Geographic

After much anticipation the recipients of the
Intellectual Blogger Award
have now been released. As everyone is by now aware, the votes for this prestigious award are done in secret and escorted under armed guard until they're finally released to the public. Only the executives of PriceWaterhouseCoopers and myself (and probably the NSA) know the results of this award in advance.
And so, without further ado, the recipients of the Intellectual Blogger Award are:
Laelaps

Brian is a paleontologist-to-be at Rutgers University. Founder of the paleo-carnival
The Boneyard
(which has been kind enough to include several of my own posts) Brian constantly inspires me with the passion he has for his subject. He can also be downright intimidating when he excels so well in combining disciplines to investigate the intersectionality of knowledge.
A great example of the latter (and why you'll find him first on my list) is entitled
Homo sapiens

: The Evolution of What We Think About Who We Are
. Brian has just joined the ScienceBlogs family (which I only just discovered), so double congratulations to him and make sure to follow his prodigious output at the new site.
Living the Scientific Life
Grrlscientist, the microbiologist, zoologist and science blogger extraordinaire, has a site that is fast rising to be one of the best science blogs on the net (look out
PZ
, this award could give her the bump she needs to take you down in the next Weblog Awards). If you ever check out the science blog carnivals you've probably encountered her work on, well, all of them. Seriously, I don't know where she finds the time. Aren't you supposed to be
looking for a job
? Leave some bandwidth for the rest of us please.
For a taste of her wonderful style and breadth of knowledge, try her post on cooperative behavior in wasps entitled
Why Do Wasps Do That? The Molecular Mechanism of Eusociality
.
Neurophilosophy
Mo of University College, London beautifully combines the complexity of neurobiology with the insight of a philosopher to create a blog that is fascinating to both the professional and lay person alike. Including frequent forays into the history of neuroscience, this is a blog that I frequently turn to for a liberal helping of brain food.
A great example is his post
The Archives of the American Eugenics Movement
.
Oh No a WoC PhD
Profbwoman, is an academic and social justice activist marooned in the wasteland of North America. Expertly navigating the vital issues of race, gender and sexuality (as well as how they impact politics and pop culture) her blog is a beautiful synthesis of complex issues that are broken down and reassembled so that the rest of us can make sense of this crazy, mixed up world.
For a terrific example of how she synthesizes these issues, see her post on the interplay of race and sexuality in a popular science-fiction show entitled
Goodbye – Dr. Who, Some, Spoilers
.
Woman of Color Blog

Brownfemipower is the kick ass, take no prisoners voice of the rage we all feel over current injustices in the world. Her blog is a powerful antidote to our temptation to remain apathetic and divorced from the solutions that we have the power to create.
For an example of the kind of post that will shake your perceptions and reveal the ongoing hypocrisy we all participate in, see her discussion of the selective public outrage over government repression entitled
Oaxaca versus Burma
.
I again want to thank Paul at
Café Philos
for initially selecting The Primate Diaries as well as Mahendra at
An Unquiet Mind
for creating this award. It's an honor to be in your company and I look forward to learning where the baton will be passed on next.